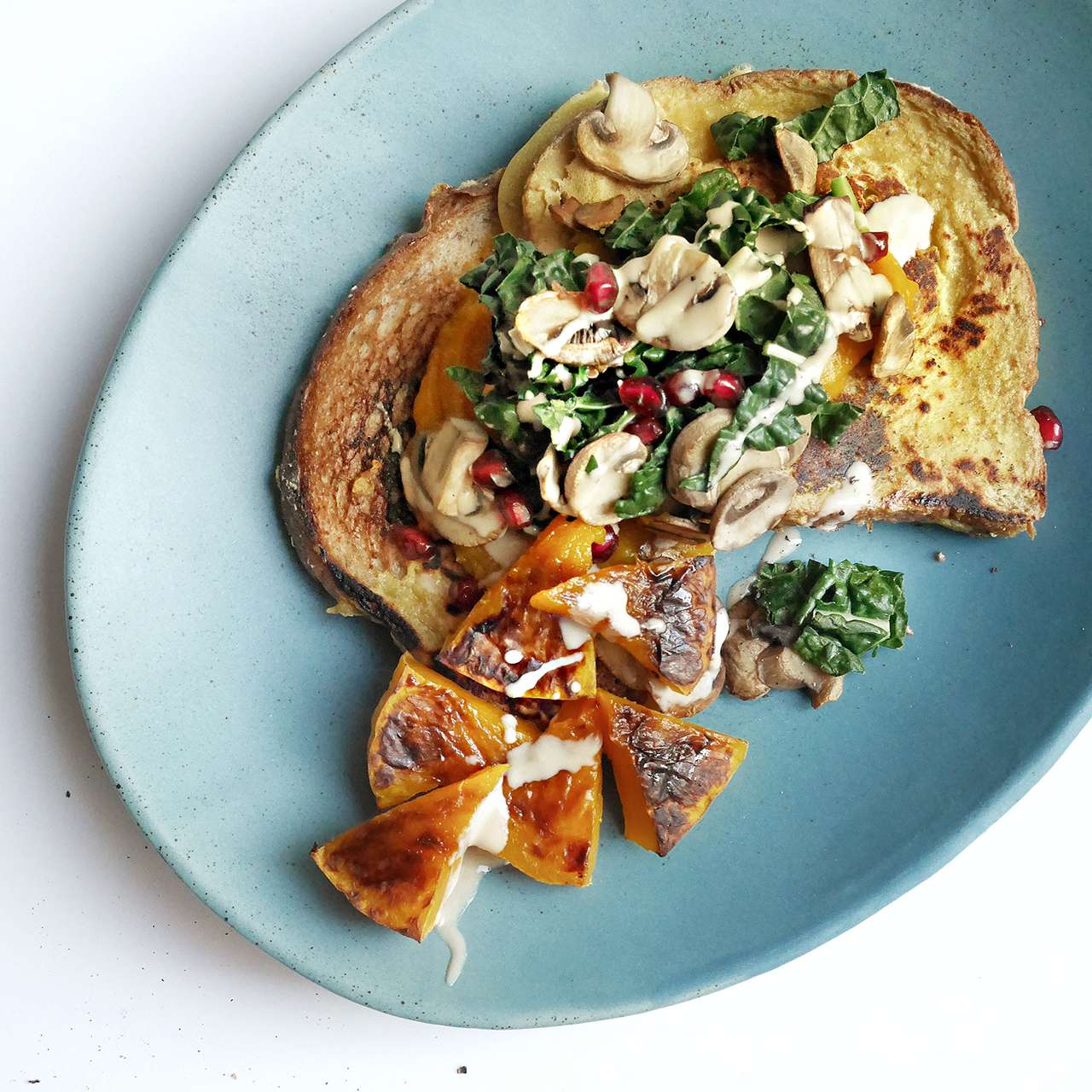 Vegan French Toast with Squash and Sautéed Vegetables
Prep time: 15 minutes
Cooking time: 5 minutes
2 portions
Ingredients
INGREDIENTS:
4 slices of St-Méthode integral bread;
1 cup of roasted butternut squash cubes (30 minutes at 400 degrees);
1 cup of cut vegetables (I used sliced ​​white mushrooms and pieces of dinosaur kale);
1-2 teaspoons of coconut oil or grapeseed oil;
Salt and pepper to taste;
Tahini (sesame butter), to taste.


For liquid preparation:
3/4 cup of chickpea flour;
3/4 cup of water;
1 tablespoon of maple syrup;
1 tablespoon of lemon juice or apple cider vinegar;
1/4 teaspoon of nutmeg;
1/4 teaspoon of curcuma powder (optional, but gives a pretty yellow color reminiscent of eggs);
A good pinch of salt and black pepper to taste.
Preparation
Put all the ingredients for the liquid preparation in a bowl and mix well with a fork. Set aside.
Put 3/4 of the roasted squash cubes in a food processor or blender and purée. Add a little water if the purée is too thick. Add salt to taste;
Heat a pan over medium-high heat. Melt a spoonful of coconut oil. Salt and sauté the mushroom slices for 3-4 minutes, until golden brown. Add the kale pieces and cook for another minute. Remove from skillet and set aside.
Add the other spoonful of coconut oil to the hot pan.
One at a time, soak the bread slices in the liquid preparation on each side. They must be well covered with the mixture.
Cook the bread slices 3 to 4 minutes on each side until golden brown.
Serve with mashed squash, remaining squash pieces and sautéed vegetables. Garnish with salt, pepper and some tahini, to taste.
*Recipe and picture courtesy of Caroline Huard
Add pomegranate seeds if they are in season!